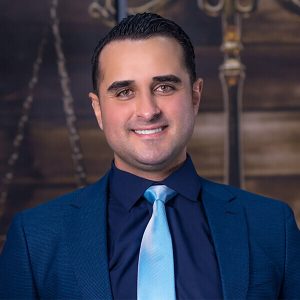 Among his superb academic credentials, Elie Bejjani, Esquire, is a graduate of Georgetown Law School, one of the most prestigious educational institutions in the country. Georgetown Law perennially ranks as a top venue for practitioners seeking advanced, cutting-edge legal training. There he earned a Masters of Law in Taxation.
As a prelude to that high distinction, Mr. Bejjani received a Bachelor of Business Administration majoring in Accounting at the University of Michigan. He then honed his legal acumen by obtaining his law degree with honors from the University of Detroit Mercy School of Law with a concentration in business and tax law. During his legal studies, he interned at the Internal Revenue Service (IRS) Detroit office.
Well-known and respected in the Detroit-area legal community, Mr. Bejjani practices in both state and federal courts in Michigan. Sensitive to the fact that clients come from all walks of life, our firm tailors our legal advice accordingly.
A seasoned trial lawyer and natural born leader, Mr. Bejjani knows his way around the courtroom. In some instances, a drawn-out legal struggle may not be in your best interests. In that context, Mr. Bejjani can recommend and implement alternative methods for ironing out a dispute.
Some of these legal issues might be better resolved through an out of court negotiated settlement rather than numerous trips to the courthouse. That being said, Mr. Bejjani will never hesitate to take your case all the way to trial to vindicate your rights if and when necessary.
Regardless of the scope of the representation or advice, we apply the same high level of customer service to any case in our office. Our careful guidance and insight apply equally to a real estate transaction, a start-up business, a misdemeanor or felony charge in criminal court.
Our firm yearns for perfection while maintaining the highest level of work ethics with our clients, opposing counsel, and the courts. We take it a step further beyond the requirements under the Rules of Professional Conduct (insert link to footnote 1) and create a fully transparent relationship with our clients. This includes a clear agreement of the scope of legal services being provided and the legal fees associated with our services.
You probably have friends who have run up against a disappointing communications gap with an attorney. Rest assured that Mr. Bejjani never abandons a client. Mr. Bejjani personally and courteously returns phone calls, messages, and emails promptly. Regular updates about case status are also standard. No client is ever left behind.
Elie Bejjani personally engages in every case assigned to Bejjani Law PLLC by attending court appearances, drafting and filing court documents, and regularly meets with clients. Mr. Bejjani's most important goal is to obtain the most favorable outcome for his clients, regardless the circumstances. 
Court Admissions

U.S. Supreme Court

U.S. Tax Court

U.S. Court of Appeals, Sixth Circuit

U.S. Bankruptcy Court for the Eastern District of Michigan

U.S. District Court for the Eastern and Western District of Michigan

Michigan Supreme Court
Licenses:

State Bar of Michigan

Michigan Real Estate Broker
Education:

Georgetown University Law, LL.M., cum laude

University of Detroit Mercy School of Law,

J.D., cum laude

University of Michigan,

B.B.A. Accounting, with distinction
Memberships:

State Bar of Michigan

State Bar of Michigan Taxation Section

State Bar of Michigan Real Estate Section

American Bar Association

Wayne County Criminal Defense Bar Association

Dearborn Area Board of Realtors
Preamble* : A Lawyer's Responsibilities
A lawyer is a representative of clients, an officer of the legal system and a public citizen having special responsibility for the quality of justice.
As a representative of clients, a lawyer performs various functions. As advisor, a lawyer provides a client with an informed understanding of the client's legal rights and obligations and explains their practical implications.

As advocate, a lawyer zealously asserts the client's position under the rules of the adversary system.

As negotiator, a lawyer seeks a result advantageous to the client but consistent with requirements of honest dealing with others.

As intermediary between clients, a lawyer seeks to reconcile their divergent interests as an advisor and, to a limited extent, as a spokesperson for each client.

A lawyer acts as evaluator by examining a client's legal affairs and reporting about them to the client or to others.
In all professional functions a lawyer should be competent, prompt and diligent. A lawyer should maintain communication with a client concerning the representation.
*Michigan Rules of Professional Conduct Preamble
Schedule a Consultation Today
If you require assistance with your legal matter, whether you have a transactional issue or a litigation-related issue, we can help.  Contact Bejjani Law at (313) 757-0036 or via email at [email protected] to schedule a consultation with our firm.  We invest the time and attention necessary to fully evaluate the situation at-hand and develop an effective strategy for resolving the legal matter.
We believe that accessibility is fundamental to quality legal representation.  Unlike many competing firms, we respond to any and all inquiries within a short timeframe so that both prospective and current clients can have their concerns alleviated and their issues addressed in a timely manner.  We routinely handle some legal matters (i.e., trust transfers of real estate property) within just 24 hours.  Other firms often put these matters on the "back burner" so to speak, and are weighed down by firm bureaucracy, leading to unnecessary inefficiencies and delays.
22174 Michigan Avenue • Dearborn, Michigan 48124, United States
Monday – Friday:  9:00 am – 5:00 pm • Closed Saturday & Sunday